Estudio descriptivo de la percepción de la relación psicoterapéutica en pacientes de la ciudad de San Luis
Horacio Daniel García

Universidad Nacional de San Luis, Argentina

Marina Beatriz Fantin

Universidad Nacional de San Luis, Argentina

Anahí Isgró

Universidad Nacional de San Luis, Argentina
Palabras clave:
Alianza terapéutica, psicoterapia, relación terapéutica
Resumen
Para indagar la percepción del paciente de la relación terapéutica y las valoraciones acerca del terapeuta que podrían ser facilitadoras, se diseñó un estudio recurriendo a una muestra no probabilística compuesta por 108 pacientes (M = 31.90, DE = 11.54), residentes en San Luis, Argentina. Se utilizó el Helping Alliance Questionnaire - HAq-II (Luborsky et al., 1996) y un cuestionario construido ad hoc. En los resultados se observa, en general, una adecuada relación terapéutica y una alta valoración en los terapeutas de aspectos como calidez, seriedad, comprensión, confianza, respeto, interés y compromiso. Las terapeutas mujeres obtuvieron puntuaciones mayores en calidez y seriedad, clima de confianza, compromiso de trabajo, entre otros. Los pacientes sin conocimiento de los diferentes enfoques de psicoterapia tienden a valorar más positivamente aspectos vinculares de la relación terapéutica; en tanto quienes tienen conocimiento poseen expectativas más altas respecto a los resultados que pretenden alcanzar.
Descargas
La descarga de datos todavía no está disponible.
Citas
Beckman, L. J. (1980). An attributional analysis of Alcoholics Anonymous. Journal of Studies on Alcohol, 41, 714-726.

Cohen, J. (1988). Statistical power analysis for the behavioral sciences (2nd ed.). Hillsdale, Nueva York: Lawrence Earlbaum Associates.

Conn, H., Medrano, L. A., & Moretti, L. (2013). Adaptación del cuestionario de alianza de ayuda revisado versión paciente (HAQ-II-P) para la población de cordobeses. Terapia Psicológica, 31(2), 165-174.

Corbella, S. & Botella, L. (2003). La alianza terapéutica: historia, investigación y evaluación. Anales de Psicología, 19(2), 205-221.

Critelli, J. W. & Neumann, K. F. (1984). The placebo: conceptual analysis of a construct in transition. American Psychologist, 39, 32-39.

Crits-Christoph, P., Gallop, R., Temes, C. M., Woody, G., Ball, S. A., Martino, S., & Carroll, K. (2009). The Alliance in Motivational Enhancement Therapy and Counseling as Usual for Substance Use Problems. Consulting and Clinical Psychology, 77(6), 1125-1135.

Del Re, A. C., Flückiger, C., Horvath, A., Symonds, D., & Wampold, B. (2012). Therapist effects in the therapeutic alliance–outcome relationship: A restricted-maximum likelihood meta-analysis. Clinical Psychology Review, 32(7), 642-649.

Fridlander, V., Heatherington, L., & Myna, L. (2009). La Alianza Terapéutica en la terapia familiar y de pareja. Madrid: Paidós Ibérica.

Lambert, M. J., Shapiro, D. A., & Bergin, A. E. (1986). The effectiveness of psychotherapy. In S. L. Garfield & A. E. Bergin (Eds.), Handbook of psychotherapy and behavior change (pp. 157-212). New York: Wiley.

Luborsky, L., Barber, J. P., Siqueland, L., Johnson, S., Najavits, L. M., Frank, A., & Daley, D. (1996). The revised Helping Alliance Questionnaire (HAq-II): Psychometric properties. Psychotherapy Practice and Research, 6(3), 260-271.

Nadelson, C. C., Notman, M. T., & McCarthy, M. K. (2008). Gender issues in psychotherapy. Paradigm, 12(2),14-18.

Norcross, J. C. (2011). Psychotherapy relationships that work: Evidence-based responsiveness (2ª ed.). New York: Oxford University Press.

Petry, N. M. & Bickel, W. K. (1999). Therapeutic Alliance and Psychiatric Severity as Predictors of Completion of Treatment for Opioid Dependence. Psychiatric Services, 50(2), 219-227.

Romero, A. F. (2008). Factores atribucionales de la efectividad psicoterapéutica. Anales de psicología, 24(1), 88-99.

Ryan, R. M. & Deci, E. L. (2008). A self-determination theory approach to psychotherapy: The motivational basis for effective change. Canadian Psychology, 49, 186-193.

Ryan, R. M., Lynch, M. F., Vansteenkiste, M., & Deci, E. L. (2011). Motivation and Autonomy in Counseling, Psychotherapy, and Behavior Change: A Look at Theory and Practice. The Counseling Psychologist, 39(2), 193-260.

Santa Cruz, S. & Sepúlveda, R. (2010). Alianza terapéutica: traducción, adaptación y validación del Helping Alliance Questionarie II (HAQ-II) de Lester Luborsky para estándares chilenos (Tesis de Magíster en Psicología Clínica). Universidad del Desarrollo. Santiago, Chile. Recuperado de http://biblioteca.udd.cl/pergamo/OPAC/pgopac.cgi?VDOC?2?39002

Santibáñez, P. (2002). La Alianza en Psicoterapia: Una sistematización. Terapia Psicológica, 20(1), 9-21.

Shields, C. & McDaniel, S. (1992). Process Differences between male and female therapist in a first family interview. Marital and Family Therapy, 18, 143-151.

Wiseman, H., Tishby, O., & Barber, J. (2012). Collaboration in Psychodynamic Psychotherapy. Journal of Clinical Psychology: In session, 68(2), 136-145.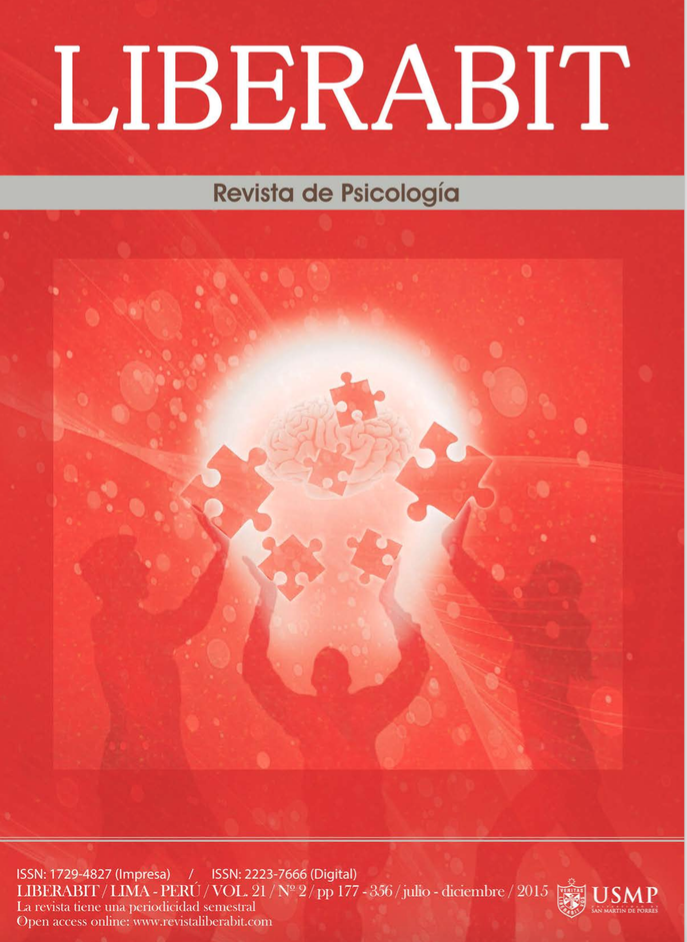 Cómo citar
García, H. D., Fantin, M. B., & Isgró, A. (2019, junio 1). Estudio descriptivo de la percepción de la relación psicoterapéutica en pacientes de la ciudad de San Luis. LIBERABIT. Revista Peruana De Psicología, 21(1), 141 - 151. Recuperado a partir de http://ojs3.revistaliberabit.com/index.php/Liberabit/article/view/294
Sección
Artículos de investigación
Esta obra está bajo licencia internacional
Creative Commons Reconocimiento-NoComercial-CompartirIgual 4.0
.
En caso de que el manuscrito sea aprobado para su próxima publicación, los autores conservan los derechos de autor y cederán a la revista los derechos de la publicación, edición, reproducción, distribución, exhibición y comunicación a nivel nacional e internacional en las diferentes bases de datos, repositorios y portales.